Name: Y Series Three - Phase Asynchronous Motor
Type: Y
Product details
Frame: 80 ~ 315 Power: 0.55 ~ 250KW
Working system: S1 Insulation class: B
Motor Housing :Cast Iron
Applicable to: all places and no special requirements of machinery, such as metal cutting machine tools, pumps, fans, transport machinery, mixers, agricultural machinery, food machinery.
Features: Insulation class for the B-class, enclosure protection class IP44.
Conditions of use: no more than 1000M above sea level. Ambient temperature changes with the seasons, but the maximum does not exceed +40 ℃, the minimum not less than -15 ℃.
Performance data
model
power
Rated current
Rotating speed
effectiveness
Power factor
Stall torque
Rated torque
Stall current
Rated current
Maximum torque
Rated torque
Synchronous speed3000r/min
Y80M1-2
0.75
1.8
2825
75.0
0.84
2.2
6.5
2.3
Y80M2-2
1.1
2.5
2825
77.0
0.86
2.2
7.0
2.3
Y90S-2
1.5
3.4
2840
78.0
0.85
2.2
7.0
2.3
Y90L-2
2.2
4.8
2840
80.5
0.86
2.2
7.0
2.3
Y100L-2
3
6.4
2880
82.5
0.87
2.2
7.0
2.3
Y112M-2
4
8.2
2890
85.5
0.87
2.2
7.0
2.3
Y132S1-2
5.5
11.1
2900
85.5
0.88
2.0
7.0
2.3
Y132S2-2
7.5
15.0
2900
86.2
0.88
2.0
7.0
2.3
Y160M1-2
11
21.8
2930
87.2
0.88
2.0
7.0
2.3
Y160M2-2
15
29.4
2930
88.2
0.88
2.0
7.0
2.3
Y160L-2
18.5
35.5
2930
89.0
0.89
2.0
7.0
2.2
Y180M-2
22
42.2
2940
89.0
0.89
2.0
7.0
2.2
Y200L1-2
30
56.9
2950
90.0
0.89
2.0
7.0
2.2
Y200L2-2
37
69.8
2950
90.0
0.89
2.0
7.0
2.2
Y225M-2
45
84.0
2960
90.5
0.89
2.0
7.0
2.2
Y250M-2
55
103
2960
91.5
0.89
2.0
7.0
2.2
Y280S-2
75
139
2970
92.0
0.89
2.0
7.0
2.2
Y280M-2
90
166
2970
92.5
0.89
2.0
7.0
2.2
Y315S-2
110
203
2980
92.5
0.89
1.8
6.8
2.2
Y315M-2
132
242
2980
93.0
0.89
1.8
6.8
2.2
Y315L1-2
160
292
2980
93.5
0.89
1.8
6.8
2.2
Y315L2-2
200
365
2980
93.5
0.89
1.8
6.8
2.2
Synchronous speed1500r/min
Y80M1-4
0.55
1.5
1390
73.0
0.76
2.4
6.0
2.3
Y80M2-4
0.75
2.0
1390
74.5
0.76
2.3
6.5
2.3
Y90S-4
1.1
2.7
1400
78.0
0.78
2.3
6.5
2.3
Y90L-4
1.5
3.7
1400
19.0
0.79
2.3
7.0
2.3
Y100L1-4
2.2
5.0
1420
81.0
0.82
2.2
7.0
2.3
Y100L2-4
3
6.8
1420
82.5
0.81
2.2
7.0
2.3
Y112M-4
4
6.8
1440
84.5
0.82
2.2
7.0
2.3
Y132S-4
5.5
11.6
1440
85.5
0.84
2.2
7.0
2.3
Y132M-4
7.5
15.4
1440
87.0
0.85
2.2
7.0
2.3
Y160M-4
11
22.6
1460
88.0
0.84
2.2
7.0
2.3
Y160L-4
15
30.3
1460
88.5
0.85
2.2
7.0
2.3
Y180M-4
18.5
35.9
1470
91.0
0.86
2.0
7.0
2.2
Y180L-4
22
42.5
1470
91.5
0.86
2.0
7.0
2.2
Y200L-4
30
56.8
1470
92.2
0.87
2.0
7.0
2.2
Y225D-4
37
70.4
1480
91.8
0.87
1.9
7.0
2.2
Y225M-4
45
84.2
1480
92.3
0.88
1.9
7.0
2.2
Y250M-4
55
103
1480
92.6
0.88
2.0
7.0
2.2
Y280S-4
75
140
1485
92.7
0.88
1.9
7.0
2.2
Y280M-4
90
164
1485
93.5
0.89
1.9
7.0
2.2
Y315S-4
110
201
1485
93.5
0.89
1.8
6.8
2.2
Synchronous speed 1000r/min
Y315M-4
132
240
1485
94.0
0.89
1.8
6.8
2.2
Y315L1-4
160
289
1485
94.5
0.89
1.8
6.8
2.2
Y315L2-4
200
361
1485
94.5
0.89
1.8
6.8
2.2
Y90S-6
0.75
2.2
910
72.5
0.70
2.0
5.5
2.2
Y90L-6
1.1
3.2
910
73.5
0.72
2.0
5.5
2.2
Y100L-6
1.5
4.0
940
77.5
0.74
2.0
6.0
2.2
Y112M-6
2.2
5.6
940
80.5
0.74
2.0
6.0
2.2
Y132S-6
3
7.2
960
83.0
0.76
2.0
6.5
2.2
Y132M1-6
4
9.4
960
84.0
0.77
2.0
6.5
2.2
Y132M2-6
5.5
12.6
960
85.3
0.78
2.0
6.5
2.2
Y160M-6
7.5
17.0
970
86.0
0.78
2.0
6.5
2.0
Y160L-6
11
24.6
970
87.0
0.78
2.0
6.5
2.0
Y180L-6
15
31.4
970
89.5
0.81
1.8
6.5
2.0
Y200L1-6
18.8
37.7
980
89.8
0.83
1.8
6.5
2.0
Y200L2-6
22
44.6
980
90.2
0.83
1.8
6.5
2.0
Y225M-6
30
59.5
980
90.2
0.85
1.7
6.5
2.0
Y250M-6
37
72.0
980
90.8
0.86
1.8
6.5
2.0
Y280S-6
45
85.4
985
92.0
0.87
1.8
6.5
2.0
Y280M-6
55
104
985
92.0
0.87
1.8
6.5
2.0
Y315S-6
75
141
990
92.8
0.87
1.6
6.5
2.0
Y315M-6
90
169
990
93.2
0.87
1.6
6.5
2.0
Y315L1-6
110
205
990
93.5
0.87
1.6
6.5
2.0
Y315L2-6
132
246
990
93.5
0.87
1.6
6.5
2.0
Synchronous speed 750r/min
Y132S-8
2.2
5.8
710
80.6
0.71
2.0
5.5
2.0
Y132M-8
3
7.7
710
82.0
0.72
2.0
5.5
2.0
Y160M1-8
4
9.9
720
84.0
0.73
2.0
6.0
2.0
Y160M2-8
5.5
13.3
720
85.0
0.74
2.0
6.0
2.0
Y160L-8
7.5
17.7
720
86.0
0.75
2.0
5.5
2.0
Y180L-8
11
24.8
730
87.5
0.77
1.7
6.0
2.0
Y200L-8
15
34.1
730
88.0
0.76
1.8
6.0
2.0
Y225S-8
18.5
41.3
735
89.5
0.76
1.7
6.0
2.0
Y225M-8
22
47.6
735
90.0
0.78
1.8
6.0
2.0
Y250M-8
30
63.0
735
90.5
0.80
1.8
6.0
2.0
Y280D-8
37
78.2
735
91.0
0.79
1.8
6.0
2.0
Y280M-8
45
93.2
735
91.7
0.80
1.6
6.5
2.0
Y315S-8
55
114
740
92.0
0.80
1.6
6.5
2.0
Synchronous speed 600r/min
Y315M-8
75
152
740
92.5
0.81
1.6
6.5
2.0
Y315L1-8
90
179
740
93.0
0.82
1.6
6.5
2.0
Y315L2-8
110
218
740
93.3
0.82
1.6
6.5
2.0
Y315S-10
45
101
590
91.5
0.74
1.4
8.0
2.0
Y315M-10
55
123
590
92.0
0.74
1.4
8.0
2.0
Y315L1-10
75
197
590
92.5
0.75
1.4
6.0
2.0
Installation structure type
Common installation structure type, and the applicable frame size is shown in the table below
Frame number
Basic installation structure
Derived installation type
B3
B5
B35
V1
V3
V5
V6
B6
B7
B8
V15
V36
B14
B34
V18
63~112
√
√
√
√
√
√
√
√
√
√
√
√
√
√
√
132~160
√
√
√
√
√
√
√
√
√
√
√
√
-
-
-
180~280
√
√
√
√
-
-
-
-
-
-
-
-
-
-
-
Note: "√" indicates the type of structure that can be manufactured
Overall Installation Dimensions
Frame
The number of poles
Installation dimensions Dimensions
A
B
C
D
E
F
G
H
M
N
P
R
S
T
K
AB
AC
AD
HD
L
80M
2.4
125
100
50
19
40
6
15.5
80
165
130
200
0
12
3.5
10
165
175
150
175
290
90S
2.4.6
140
100
56
24
50
8
20
90
165
130
200
0
12
305
10
180
195
160
195
315
90L
2.4.6
140
125
56
24
50
8
20
90
165
130
200
0
12
3.5
10
180
195
160
195
340
100L
2.4.6
160
140
63
28
60
8
24
100
215
180
250
0
15
4
12
205
215
180
245
380
12M
2.4.6
190
140
70
28
80
8
24
112
265
230
300
0
15
4
12
245
240
190
265
400
132S
2.4.6.8
216
140
89
38
80
10
33
132
300
230
300
0
15
4
12
280
275
210
315
475
132M
2.4.6.8
216
178
89
38
110
10
33
132
300
250
350
0
15
4
12
270
275
210
315
515
160M
2.4.6.8
254
210
108
42
110
12
37
160
300
250
350
0
19
5
15
330
335
265
385
605
160L
2.4.6.8
254
154
108
42
110
12
37
160
300
250
350
0
19
5
15
330
335
265
385
650
180M
2.4.6.8
279
241
121
48
110
14
42.5
180
300
250
350
0
19
5
15
355
380
285
430
670
180L
2.4.6.8
279
279
121
48
110
14
42.5
180
300
250
350
0
19
5
15
355
380
285
430
710
200L
225M
225S
2.4.6.8
318
356
356
305
311
286
133
149
149
55
110
16
49
200
225
225
350
400
400
300
350
300
400
450
450
0
0
0
19
19
19
5
5
5
19
19
19
395
435
435
420
475
475
315
345
345
475
530
530
775
4.8
60
140
18
53
820
250M
2
406
349
168
55
110
16
49
250
500
450
550
0
19
5
24
490
515
385
575
1000
4.6.8
60
140
18
53
280S
2
457
368
190
60
140
18
53
280
500
450
550
0
19
5
24
550
585
410
640
1050
4.6.8
65
140
18
58
200M
2
457
419
190
65
140
18
58
200
500
450
550
0
19
5
24
550
505
410
640
1240
4.6.8
75
140
20
67.5
315S
2
508
406
216
65
140
18
58
315
600
550
660
0
24
6
28
744
645
576
865
1270
4.6.8
75
140
20
67.5
315M
2
508
457
216
65
140
18
58
315
600
550
660
0
24
6
28
744
645
576
865
1310
4.6.8.10
80
170
22
71
315L
2
508
508
216
65
140
18
58
315
600
550
660
0
24
6
28
744
645
576
865
1340
4.6.8.10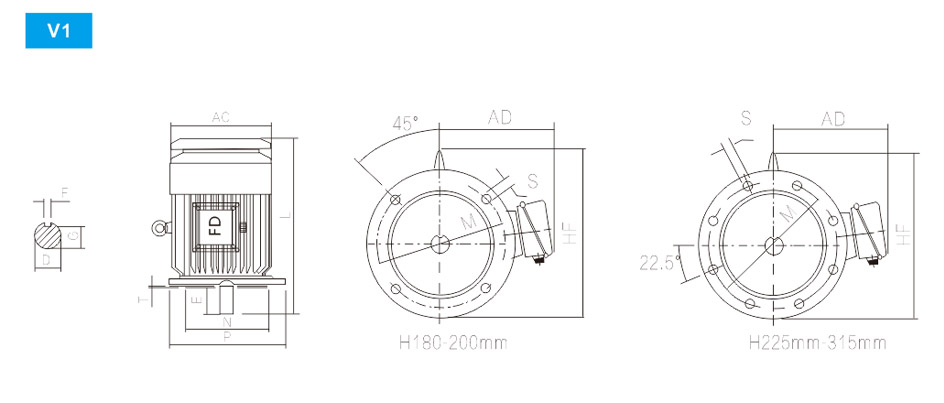 Frame
Pole
Installation Dimensions
Overall Dimensions
D
E
F
G
M
N
P
R
S
T
Flange Holes
AC
AD
HF
L
180M
2.4.6.8
48
110
14
42.5
300
250
350
0
19
5
4
380
285
500
730
180L
2.4.6.8
48
110
14
42.5
300
250
350
0
19
5
4
380
285
500
770
200L
2.4.6.8
60
110
16
49
350
300
400
0
19
5
4
420
315
550
850
225S
4.8
55
140
18
53
400
350
450
0
19
5
8
475
345
610
910
225M
2
60
110
16
49
400
350
450
0
19
5
8
475
345
610
935
250M
4.6.8
60
140
18
53
500
450
550
0
19
5
8
515
385
650
1035
2
65
140
18
53
280S
4.6.8
65
140
18
58
500
450
550
0
19
5
8
580
410
720
1120
2
75
140
18
58
280M
4.6.8
65
140
20
67.5
500
450
550
0
19
5
8
580
410
720
1170
2
75
140
18
58
1360
315S
2
65
140
18
58
600
550
660
0
24
6
8
580
410
720
1360
4.6.8.10
80
140
20
67.5
1390
315M
2
65
140
18
58
600
550
660
0
24
6
8
645
576
900
1460
4.6.8.10
80
170
22
71
1490
315L
2
65
140
18
58
600
550
660
0
24
6
8
645
576
900
1460
4.6.8.10
80
170
22
71
1490